This article is about the pilot used to pitch the series. You may be looking for the full series.
7D[1] is the official pilot for The 7D, a work that was pitched to Disney and later resulted in the television series. It has not been officially released anywhere; however, the character designs used in the pilot were revealed when the show was announced, and a short clip was shown in a Boulder Media Ltd. animation reel. Art director Timothy Barnes has also posted visual development images used in the production of the pilot here.
Trivia
Unlike the full series, the pilot was animated at Boulder Media Limited.
It is 10 minutes long, approximately the length of a regular episode of The 7D.[1]
Differences between the Pilot and the Series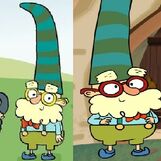 Doc had two changes to his design:

Yellow glasses to red glasses
Peach colored nose to reddish pink colored nose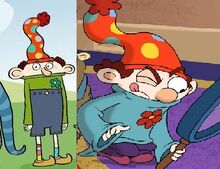 Of all the 7D, Dopey (along with Sneezy) has undergone the most changes to his design, they are:

Tall to average dwarf height
Light green sweater to light blue sweater
Blue flower to red flower
Long nose (similar to Sleepy's) to short ball like nose
Tall navy blue pants to purple pants under the sweater
Thicker eyebrows
Removal of colorful socks
Golden yellow pointy shoes to magenta shoes
Less colorful dots on his hat
Of all the 7D, Sneezy (along with Dopey) has undergone the most changes to his design. The changes are:

Small brown hat with a pink flower (similar to Grumpy's) to a turquoise hat with a feather
Orange puffy hair to messy brown hair
Orange eyebrows to brown eyebrows
Smaller nose to bigger nose
Green bowtie to turquoise scarf
Light and golden yellow long shirt to blue and red long shirt
Pointy maroon shoes to rounder brown shoes
Removed freckles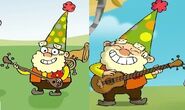 Between Happy's current design and the original concept art including him, only one change is made: His hat now has fewer dots.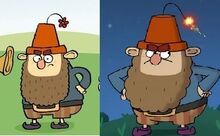 Grumpy only had two changes to his design:

Dark purple shoes to lighter purple shoes
Lighter blue shirt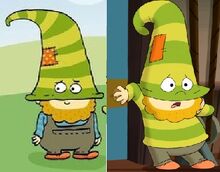 Bashful has undergone some changes to his design.

His hat's point became more curled
Less stripes on his hat
Removal of yellow dots from his orange patch on his hat
Nose is visible underneath his hat, as opposed to his first design showing no nose
Gray overalls to gray pants
Light and dark blue shirt to light and dark green shirt
Gallery
Video screenshots
Production art
References