| | | |
| --- | --- | --- |
| " | Narrator: When he plays hide and seek, he can't even find himself. He's so good at blending in, chameleons come to him for advice. He's so shy, his own parents haven't met him yet. He plays extreme Peek-a-Boo. He's not only scared of his shadow, his shadow is scared of other shadows and think about it... That's scared. Meet Bashful! | " |
| | | |
| --- | --- | --- |
| " | Bashful: (gulps) Floom. | " |
Bashful is one of the dwarfs who protect Jollywood in The 7D. He may be really shy, but he also has a real knack for hiding. He also has a crush on Queen Delightful, which is revealed in "The Big Bash." He is Grumpy's and Happy's best friend. He has a high, squeaky (sometimes quiet) voice, despite being an adult. He doesn't talk that much in some of his appearances. Bashful is voiced by Billy West.
Physical appearance
Bashful's shirt and pointed hat both have green yellow and yellow green stripes. His hat features an orange patch and goes beyond his eyes and nose, which fits his personality. Completing the look are his gray pants and red-orange shoes. Bashful sports a golden blond beard and messy, golden hair.
Personality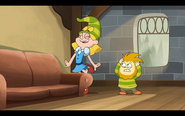 Main article: Bashful and Queen Delightful's relationship
In The 7D, Bashful is extremely shy and cowardly. He panics whenever his hat is removed in front of everyone, as shown in "Goldilocks and the 7D," where he has to find another object to cover his face. He is also good at hiding when being bothered. Bashful can also pop up unexpectedly in many different locations, and sometimes peek behind other characters.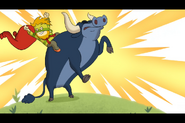 There are, however, signs of Bashful being brave. In "The Big Bash," he became a masked vigilante known as The Big Bash by accident. Riding on a bull, Bashful helps the people of Jollywood (saving a baby and helping a school pupil solve an algebraic equation are among the good deeds). The Big Bash's biggest break is when he saves Queen Delightful from falling when Grim's spell hit her golden Sky Bucket. Thanks to Bashful's disguise, the Queen doesn't know who the vigilante really was, but at least her left shoe returned to her (Bashful had it after a huge mishap he caused earlier in the episode).
In "Bathtub Bashful," it's revealed that Bashful has a great singing voice similar to Elvis Presley's while in the shower. Queen Delightful stops by at The 7D's to find out where the voice came from, and invites Bashful to appear at her annual Jollypalooza concert to replace a singer who was forced to drop out. At first, Bashful didn't want to perform in front of the crowd (he was shown to sing in his normal voice outside the bathtub) but relented after being persuaded by Doc. At the talent show his Elvis-style voice wowed the crowd, and suddenly he gained the confidence to step out of the bathtub to perform in person while wooing Queen Delightful. It's also revealed in the same episode that since Doc has let Bashful down lots of times, Bashful has trouble trusting Doc.
As for his crush on the Queen, Bashful gets really nervous when he's around her and faints when he hears her name. In all of his main roles, he seems to show his crush on Delightful and step out of character. He's also shown cockiness about his chances with her because in "Free Teensy," he pops out from behind her and makes a cute face while saying, "She can't get enough of me." It is also revealed that Bashful can be somewhat sassy in the episode "Buckets" when he tells Lord Starchbottom to "beat it" after "calling dibs" on watching Queen Delightful. Later, in the Season 2 episode "The 7D and the Beast", he saw an opportunity to kiss Delightful for the first time (she kissed him twice before out of gratitude) after she was cursed with the sleeping spell. After the kiss, the Queen gave the impression that she liked it. However, in "The Jollywood Games" she willingly kisses Bashful in the end after he won the event. Because of the series' cancellation in January 2016 that resulted in the reduction of episodes beyond the first season, it will not be known whether Delightful would ever find out about Bashful being in love with her.
Shea Fontana, one of the writers for The 7D, once revealed that more episodes would follow showcasing Bashful's crush on Queen Delightful.[2]
In "Jollybells", he along with Happy helps all people in Jollywood to cheer up and get their joy back.
Bashful can have different personas; in addition to the Big Bash, he's also known in "Shapeshifter" as Agent Bash, a brave super spy.
Skills
Bashful has the ability to camouflage himself, making himself invisible to others as shown in "The Rock of Sages" and "Knight School". As mentioned above, he's really good at hiding; for example, in the episode "Funniest Haircut Day" he uses the Hidey Hole Forest to his advantage in finding Grumpy.
Quotes
"Floom!" (nearly whenever Bashful finds something awful happens)
"The Queen needs us!" (whenever The 7D hears the Bing-Bong Bell)
"She can't get enough of me." (in "Free Teensy" after popping out behind Queen Delightful)
"We're gonna be frogs forever?!" (in "7 Frogs" when Grumpy kissed a witch but failed)
"You have had enough of these! Sit down and stifle yourselves!" (to the giggle-stricken 7D [sans Dopey and Grumpy] and a bear at the serious award ceremony in "Giggleberries")
"Well, isn't this just...WAAAAAAAAGGGGGHHHH!!!" (Bashful freaking out in "Giggleberries")
"New people make me extra shy." ("Welcome to the Neighborhood")
Trivia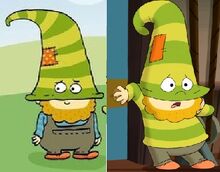 Bashful has undergone some changes to his design.

His hat's point became more curled
Less stripes on his hat
Removal of yellow dots from his orange patch on his hat
Nose is visible underneath his hat, as opposed to his first design showing no nose
Gray overalls to gray pants
Light and dark blue shirt to light and dark green shirt

Bashful has the smallest nose of all The 7D (dwarfs usually have big and puffy noses). Sneezy has the biggest one, which is designed exactly like his personality.
Like in "Bathtub Bashful", he sings in the episode "Jollybells" ("Jolly Day" and "Jolly Day Tree").
In "Bathtub Bashful", it is revealed Bashful has stage fright but in "The Jollywood Jam" there are no signs of him having stage fright. It could mean he gets a little less shy when he is on stage with someone.
Bashful was afraid of cats in "Bathtub Bashful", but in "Cat on a Hot Grim Roof" there wasn't any signs of him being scared of cats.
In the episode "Giggleberries", its revealed that Bashful is a stress eater.
It is revealed in "You Ain't Seen Nothin' Yeti!" that Bashful is very uncomfortable about mimes.
He is the only dwarf who did not drain a single joy nor get a haircut in "Jollybells" and "Funniest Haircut Day", respectively.
Bashful became a Dragon Scout First Class approximately at the age of eight. ("The Enchanted Forest Ranger")
He and Sleepy are the only members of the 7D to not have their childhood memories shown.
His parents are mentioned in an introduction from the game "The 7D Mine Train", but were never mentioned throughout the whole series.
References