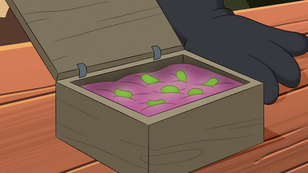 For the episode, see Bing Bong Beans.
Bing Bong beans are exactly what the 7D are searching for as the only way to get to the Bing-Bong Bell in the Kingdom of the Clouds. They are sold by Beansie McBean-Bean, who owns Bargain Bean Barn. These beans can only grow quickly under the moonlight until it reaches the place where the Bing-Bong Bell is staying, as shown in the episode "Bing Bong Beans".
Ad blocker interference detected!
Wikia is a free-to-use site that makes money from advertising. We have a modified experience for viewers using ad blockers

Wikia is not accessible if you've made further modifications. Remove the custom ad blocker rule(s) and the page will load as expected.