"Yeah, that's a flaw."


This article has one or more sections that needs to be added/completed. Adding more information will be greatly appreciated!

"Chicken Soup for the Troll" is an episode that premiered on May 7, 2016 with "The Family Pickles" on Disney XD.[2]
It is the sixty-fifth segment in the series.
Synopsis
When the Queen comes down with a case of Yodeladyflu, The 7D set off to find the cure.[3]
Plot
"We're Working on It!"


This section of the article is coming soon or undergoing development. Thank you for your patience!


The segment starts when Happy announces the beginning of an annual race. After he announces the said race, the Queen starts to sing the Jollywood anthem, then she suddenly starts yodeling. Six of the 7D set out to find the cure called "Jollywood Jane chicken noodle soup" while Bashful guards Queen Delightful.
Featured Song
Goofs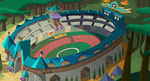 The overview of Jollywood Stadium in the opening shot of the segment shows a blank scoreboard. However, in subsequent shots featuring the scoreboard, it displays GNOMES on one side and JOLLYWOOD on the other. In an earlier episode, "Jollyball Anyone?", the 7D with Starchbottom square off against the gnomes in a game of Jollyball.
When the 7D return to the stadium with the soup, the facade of the entrance appears disjointed compared to at the beginning of the episode.
Trivia
"Chicken Soup for the Troll" is a pun on the name of the popular book series Chicken Soup for the Soul.
Doc's mohawk had appeared again. The first was "Bathtub Bashful" and the last in "Dr. Jingleheimer".
This episode marks the first time the Glooms take days off.
Characters
International Premieres
August 13, 2016 -- (Disney Channel Asia)
References
Ad blocker interference detected!
Wikia is a free-to-use site that makes money from advertising. We have a modified experience for viewers using ad blockers

Wikia is not accessible if you've made further modifications. Remove the custom ad blocker rule(s) and the page will load as expected.