"Yeah, that's a flaw."


This article has one or more sections that needs to be added/completed. Adding more information will be greatly appreciated!

"Dr. Jingleheimer" is an episode that premiered with "The Enchanted Forest Ranger" on Disney XD on May 14, 2016.[2]
It is the sixty-seventh episode in the series.
Synopsis
Doc is captured by Dr. Jingleheimer and it's up to Happy and Grumpy to rescue him.[3]
Plot
"We're Working on It!"


This section of the article is coming soon or undergoing development. Thank you for your patience!


The episode opens up with Grumpy and Happy looking at a spooky structure atop Old Smokey.
Running Gag
Happy continuously singing traditional songs.
Trivia
This episode marks the first time Queen Delightful makes a brief cameo in this episode along with "The Enchanted Forest Ranger", together.
This episode is unique in the fact that it feature well known traditional songs instead of original songs composed for the series.
Doc's Mohawk hairstyle has been appeared again since "Bathtub Bashful" and "Chicken Soup for the Troll". The last is seen in "Shapeshifter".
This is one of the episodes the Glooms did not appear.
This is one of the few episodes that takes place entirely at night.
Happy is shown singing the "Most Annoying Song Ever" in this episode with Sleepy, Dopey, and Sneezy. Later in the beginning of its paired episode, it is shown that he's singing the same song, implying that this episode chronologically took place before "The Enchanted Forest Ranger".
Plot Hole: Doc says he invented his hat; although in "The Rock of Sages" he states it was passed down from generation to generation, meaning it's unlikely to have been invented by Doc himself.
Goofs
In this screenshot below, Sleepy is sleeping with a plush that doesn't look exactly like Mr. Hicklepips.
When the 7D arrive at the lab on their scooters singing the most annoying song ever, Sneezy and Sleepy's visors change appearances, plus Dopey doesn't have his on.
Also, as the 7D are circling around the lab Dr. Jingleheimer have already shrunk Jollywood and placed on his play set, but the kingdom isn't on the set. Also in the next shot, Bashful's scooter color changes from blue to orange and he also doesn't have his visor and Sneezy's eyebrows has been disappeared.
Shrunken Dr. Jingleheimer and Bingo aren't in the toy locomotive while Doc enlarges Jollywood back into its original size and back into its place.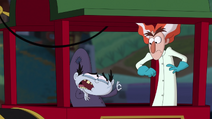 Characters
International Premieres
August 20, 2016 -- (Disney Channel Asia)
References