"Heigh-Ho!"


Good job! This article is complete, meaning that everything's in place.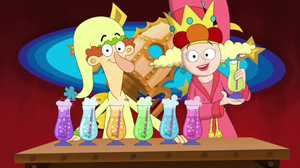 For the song, see Fizz Bop Rocket Pop jingle.
Fizz Bop Rocket Pop is a flavored drink that made its appearance in "Big Rock Candy Flim-Flam". Lord Starchbottom suggest having a drink of it while he and Queen Delightful await Grandmommers Whimsical's arrival, leading to an impromptu advertisement for the product, twice. The product itself consists of a heart-shaped tablet inside a pouch. When the tablet drops into a glass of water, it makes the water carbonated (like Alka Seltzer) and changes color that matches its flavor. Fizz Bop Rocket Pop contain a total of 14 different varieties, all of which sounds terrible.
Flavors
Grape Julep
Wallpaper
Dog Smell
Festive Forest
Riverbank
Leonard
Eggplant
Mouthwash
Tree Bark
Barnyard
Squid
Rooty Tooty
Dirt (a seasonal flavor)
Carpet (a holiday flavor)
Gallery
First advertisement
Second advertisement
Ad blocker interference detected!
Wikia is a free-to-use site that makes money from advertising. We have a modified experience for viewers using ad blockers

Wikia is not accessible if you've made further modifications. Remove the custom ad blocker rule(s) and the page will load as expected.