"Heigh-Ho!"


Good job! This article is complete, meaning that everything's in place.

Free Teensy
 is an episode that premiered on September 14, 2014 with "
Grim the Dragon
" on
Disney XD
.
[2]
It is the twenty-fourth episode in the series.
Synopsis
The 7D transports Queen Delightful's Jolly-Go-Jumbo fish to a body of water that can accommodate his increasing size.[3]
Plot
The episode opens at the Glooms' manor. Grim surprises Hildy with a ring that can make the wearer shape shift. He then take her out to a carnival (to her chagrin), both dressed as clowns. Queen Delightful organized the event to raise awareness about saving the nesting grounds of the Shiffle-Nosed Nergandingslinger (which one of them chases Lord Starchbottom). With The 7D manning the game booths, Grumpy hosts a booth with fish being offered as prizes by successfully tossing a ring to the top of a bowl. Grumpy then received a stern warning from a man named Cappy that he seemingly have knowledge about Jolly-Go-Jumbo fish, the kind that can grow exponentially and have colored rings around one of their eyes.
A boy comes up to Hildy and she felt that he's bothering her, so she tells him to go away while calling him a mouse. Suddenly, the shape-shifting ring, while still being worn by Hildy, turned her into a mouse; and the ring rolls away towards Grim. At Grumpy's booth Grim tries his hand at winning a fish, and he mistakenly throws Hildy's shape shifting ring to a Jolly-Go-Jumbo fish with a blue ring around his eye and swallowed it. Grumpy reminded him that it must be tossed at the top of the bowl using the large rings provided at the booth. Queen Delightful then appeared alongside Grim and successfully wins at her first try, and she names her new pet fish that swallowed Hildy's ring Teensy. Hildy the mouse finds Grim and tells him that they must get her ring back from the Queen and Teensy—or else she'll stay a mouse forever.
At the castle, Delightful and Starchy realize Teensy is growing rapidly. After Teensy is moved to the moat, he shape shifts numerous times into various sea animals with the ring still inside him. Grim and Hildy are at the castle's grounds to retrieve the ring, but after several failed attempts they both ended up being swallowed by a now-giant Teensy. The Queen realizes that Teensy is getting too big for the moat, so she summoned The 7D to transport him to the ocean by Doc's Hurdy Gurdy Whirly Birdy in the air. Teensy's body continues to grow, which nearly brought down the craft, but they manage to have him in the sea just in time.
Teensy reunites with another Jolly-Go-Jumbo fish with a red ring on her eye that he had last saw her at the carnival and they begin to fall in love. Teensy is large enough to spit out Hildy and Grim, and at last Hildy has her shape shifting ring, turning her back to a witch. Unfortunately, she drops it into the ocean and watched it sink with despair. The 7D notice the Glooms being afloat in the ocean, so they have to rescue them. Soon after, other Jolly-Go-Jumbo fish that people won at the carnival have became so gigantic they caused damage to their homes.
Featured Song
Running Gag
Cappy appeared a few times to warn Grumpy about the Jolly-Go-Jumbo fish, and Grumpy reminds him that he has something on his nose.
Teensy growing bigger and shapeshifting other sea animals.
Trivia
The Shiffle-Nosed Nergandingslinger first appeared in this episode. The species would later be the focus of the episode "Uncle Humidor."
Bashful is shown to be somewhat cocky after he pops out from behind Queen Delightful when he makes a cute face and says, " She can't get enough of me."
This is one of the few episodes where The Glooms did not plan anything evil.
The background music during Dopey setting up the trap underwater for Teensy later became "The Dopey Song".
Cultural Reference
The episode title Free Teensy is a pun for the 1993 movie Free Willy.
Goofs
When Grumpy said "They're tiny. Why are they called Jolly-Go-Jumbo fishes?," the closed captions list it as "Jolly-Go-Jumbo fish," excluding the "es" at the end of "fishes."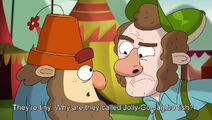 Characters
International Premieres
January 24, 2015 -- (Disney Channel Italy)
February 18, 2015 -- (Disney Channel Asia)
March 16, 2015 -- (Disney XD Poland)
October 9, 2016 -- (TV5 Philippines)
References