"Funniest Haircut Day" is an episode that premiered on February 6, 2016 with "Oh Happy Grumpy" on Disney XD.[2]
It is the fifty-fourth episode in the series.
Synopsis
The Glooms disguise themselves as hairdressers to complete their spell and take over the kingdom.[3]
Plot
"We're Working on It!"


This section of the article is coming soon or undergoing development. Thank you for your patience!


The episode starts when Queen Delightful sings a song. The song ends when Sleepy notices that Grumpy is missing. The queen goes down via an umbrella and Doc tells Queen Delightful that Grumpy never shows up for the Funniest Hair Cut Day, when the Queen knew that Grumpy never shows up for the holiday, Queen Delightful starts pouting. The Jollywoodians are starting to panic.
Featured Song
Running Gags
Bashful, as well as the beaver (only once) uttering the word "noob" every time Grumpy runs away from Bashful.
Grim speaking in a French accent.
Trivia
Season 2 Episode 3 is the first half-hour episode of the series to center on a single character (Grumpy).
This is the second time Grumpy runs away from home, the first time being the first episode of this episode. But Grumpy comes back realizing that he can't run away forever, and that it doesn't solve anything.
The 101 jars of hair call back to "Sleepytime", when the Crystal Ball says that Jollywood has a population of 101 people.
The beginning of Hildy's hair spell was a reference to Macbeth.
Bashful is the only dwarf not to get any haircut. Ironically, this happened before in "Jollybells", where he never drained a single joy.
Grumpy's mother is shown in this episode, albeit her face was hidden.
Censorship: In Disney Channel Asia, the scene where people laughed at little Grumpy after his hair bursted out has been cut for an unknown reason.
Goofs
Dopey's pants are the same color as his sweater instead of purple when Happy sings the line "It's the silliest haircut" during the musical number.
Sneezy's funniest hairdo (images shown below right) changes between appearances. When it's shown for the first time, all of his hair is made into the trophy hairdo. But at the end of the episode, the trophy hairdo appears sitting up top his normal styled hair. Also, shown on the left panel of the image Sneezy is drawn in a similar way as seen on the promotional image for the character.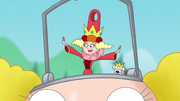 When Bashful says "I learned this gag from Sneezy", his lips didn't move.
When Queen Delightful finishes the music sequence, her red dress has been covered up by her pink robe.
The fonts changed on the hair jars' labeling many times. Also, when the Glooms realize that their plan is failing, Grim is holding the jars numbered 100 and 101. At one shot, Grim is holding jar 101, but the jar that is supposed to be numbered 100 is unnumbered. The number 100 reappears on the jar in the next shot of Grim and also switched places. The gallery below detailing the errors are as follows, in order:
Characters
International Premieres
March 26, 2016 -- (Disney Channel Asia)
References