"Yeah, that's a flaw."


This article has one or more sections that needs to be added/completed. Adding more information will be greatly appreciated!

"Game of Grumpy" is an episode that premiered on July 23, 2016 with "7D and the Beast" on Disney XD.[2]
It is the seventy-fifth episode in the series.
Synopsis
At his family reunion, Grumpy is hailed as a hero and leader of the 7D.[3]
Guest Stars
Plot
"We're Working on It!"


This section of the article is coming soon or undergoing development. Thank you for your patience!

Featured Songs
Running Gags
The 6D would head to Ginorma just to give her a kiss multiple times.
Trivia
This is one of the episodes where the Glooms did not appear.
Having a poor and cranky attitude is normal in Grumpy's old home town Grumpylvania.
This is the third episode to show an onscreen kiss (King Groucharooney and Ginorma), the first was "For the Love of Cheese" and "Take Me To Your Grumpy", both with the Glooms.
Moral: Do not lie to other people.
Cultural References
Tom Ruegger has revealed that "Game of Grumpy" is a homage to a series of novels and the HBO series Game of Thrones, as well as that Grumpy comes from a royal family.
Grumpy alludes to the Brothers Grimm fairy tale "The Brave Little Tailor" by saying he defeated seven giants in one blow.
This episode is similar to the Kung Fu Panda: Legends of Awesomeness episode "Hometown Hero", where Mantis lies to his hometown about being the Dragon Warrior.
Goofs
The final scene has Sneezy's beachwear switching between a two-piece and a one-piece.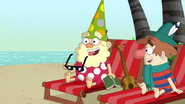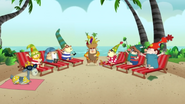 Characters
References
International Premieres
December 12, 2016 -- (Disney Channel Asia)