"In Yer Dreams, Pal" is an episode that premiered on January 30, 2016 with "The Great Glitterpillar" on Disney XD.[2]
It is the fifty-first episode in the series.
Synopsis
The 7D must save Jollywood from a never-ending nighttime spell placed by the evil Nocturna.

Guest Star
Amy Sedaris ("Strangers with Candy") guest stars as Nocturna.
Plot
"We're Working on It!"


This section of the article is coming soon or undergoing development. Thank you for your patience!


The episode opens with Sleepy and Grumpy are explaining to the viewers about what happened yesterday.
Featured Songs
Running Gag
The three cats breaking the fourth wall by singing the Catty Wampus song.
Trivia
Goofs
When Grumpy sarcastically introduces himself to Winken, Blinken and Nod, the top part of Sneezy's hat is cut off, while a part of his scarf that runs down his shirt is not shown. Also, the top half of his shirt excluding the sleeves is red.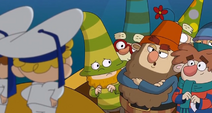 When Nocturna surprises the 7D on their escape on the dream catcher with Sandie and Sunny on top, Sandie and Sunny aren't there.
When Happy, Dopey, Doc, Bashful and Sneezy were upset after Sleepy and Grumpy left, Sneezy lost his pants.
Characters
International Premieres
March 12, 2016 -- (Disney Channel Asia)
References
Ad blocker interference detected!
Wikia is a free-to-use site that makes money from advertising. We have a modified experience for viewers using ad blockers

Wikia is not accessible if you've made further modifications. Remove the custom ad blocker rule(s) and the page will load as expected.