Under Construction
This article is a stub. You can help The 7D Wiki by expanding it when more information becomes available.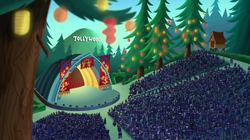 Jollypalooza is Jollywood's only palooza of the year. Performers around the kingdom are invited to showcase their talents. In "Bathtub Bashful", performer Jenny Jollywood cancels her appearance because she literally had a frog in her throat, so Queen Delightful asks Bashful to be on the stage after hearing his singing. When he hears the news, he runs off in nothing but his hat and a towel. This freaks Starchy out because he is to organize the whole thing. So the six other dwarfs go out looking for Bashful.
Trivia
Jollypalooza is a play on the real life Lollapalooza, a multi-day music festival held annually in Chicago.
Ad blocker interference detected!
Wikia is a free-to-use site that makes money from advertising. We have a modified experience for viewers using ad blockers

Wikia is not accessible if you've made further modifications. Remove the custom ad blocker rule(s) and the page will load as expected.