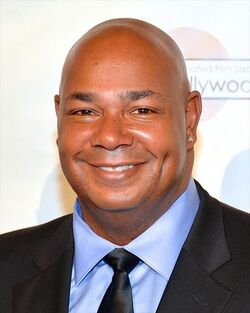 Kevin Michael Richardson (born October 25, 1964) is the voice of Happy on the Disney XD original series The 7D. He is a voice actor who worked on other Disney XD series such as Randy Cunninhgam: 9th Grade Ninja as Willem Viceroy III, Gravity Falls as Sheriff Blubbs, and Wander Over Yonder as Glen, Knucklehead, and other minor characters. In Disney's Lilo & Stich he voiced Gantu.

Outside of Disney, he is also the voice of Dark Laser on The Fairly OddParents, Cleveland Jr. on The Cleveland Show, Shredder on the Nickelodeon Teenage Mutant Ninja Turtles series and Trigon on Teen Titans and Teen Titans Go!.
Other characters he voiced on The 7D were King Yo, Troll King, Puffy, and Sir Burgess of Meredith.
Ad blocker interference detected!
Wikia is a free-to-use site that makes money from advertising. We have a modified experience for viewers using ad blockers

Wikia is not accessible if you've made further modifications. Remove the custom ad blocker rule(s) and the page will load as expected.