"Heigh-Ho!"


Good job! This article is complete, meaning that everything's in place.

"New Shoe" is an episode that premiered on July 28, 2014 with "The 8th D" on Disney XD.[2]
It is the twentieth episode in the series.
Synopsis
When The Old Woman Who Lives In A Shoe needs a new home for herself and her children, the Queen assigns Lord Starchbottom and The 7D the task of building her the finest shoe house in all of Jollywood.[3]
Guest Star
Plot
The episode opens at the castle courtyard where Queen Delightful mediate any problems Jollywood's citizens face. Peter Piper is accused of taking some of Paddy Puddle's pickled peppers into his pocket without paying, and is ordered to reimburse Paddy. Next up is the Old Woman, who is looking for a new home for her and her children. Her previous home has been a shoe that belongs to a giant who's been looking for it since it fell into a meadow. Now that the giant has found his lost shoe, its occupants must move out from what it had been their home. While Delightful agrees that the shoe must be returned to the giant, she also ordered the construction of a new home for the Old Woman and her children to The 7D and Lord Starchbottom (to his usual dismay).
Now in charge, Starchy tells The 7D not to begin building the new home until he gives them the go-ahead, but the dwarfs are already constructing. However, Starchy has a lot of trouble envisioning what the new home should look like, as his drawings of the home resembled blobs. They must have the new home completed by day's end or the Old Woman and her children will be without a home. The Queen stops by to check on its progress and then treats the Old Woman to a day out. Grumpy has to watch the children, including a golden blond-haired boy named Eenie, while Delightful and the Old Woman are away.
Delightful reminds the Old Woman that people can take care of themselves as much as they take care of others, so she treats her to beauty makeover at a spa. Starchy is still struggling for the perfect idea of a new home, and The 7D misunderstood his thoughts, leading to humorous results (building a giant bunny slipper, roller skate and sandal). Grumpy tells a really bad story to Eenie, and then telling him that he's not good at it. Later, the children realize Eenie is nowhere to be found, prompting Grumpy to frantically looking for him; Eenie then reappears, saying that he found a good book to read, and Grumpy begins to read to the kids.
With time running out, Starchy is distraught that he can't think of anything. Then, a miracle happened: The 7D has constructed the perfect house based on the design of Starchy's work boots! Even though Starchy hasn't thought of it, Doc still gives him credit. Delightful returns and presents to everyone the Old Woman's new look, which all the children complimented her. After the Old Woman and her children moved into their new home, Grumpy remarks to Delightful he's tired from watching the kids and she offers him a solution. Later at night, Grumpy returns to the cottage and is noticed by Happy, and Grumpy irritability wants him not to tell anyone about his beauty makeover.
Featured Song
Running Gag
Someone mentioning the "blobby thing".
Trivia
The Old Woman and her kids appear in this episode as the main characters after making a cameo in "The Fairest in the Land".
This is one of the episodes the Glooms did not appear.
At seven letters on its title, this episode has the shortest title in the series with "Buckets".
Cultural Reference
Grumpy's line "Round and round we goes. And when this day will end, nobody knows." is a song reference to the 1982 song "Abracadabra".
Goofs
In the closed captioning, Paddy's name is misspelled Patty.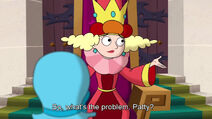 A black outline on the top of Starchbottom's nose appear when he noticed his work boots.
Characters
International Premieres
November 22, 2014 -- (Disney Channel Italy)
December 18, 2014 -- (TBA)
January 1, 2015 -- (Disney Channel Asia)
References
↑ Cite error: Invalid <ref> tag; no text was provided for refs named BroadwayWorld
Ad blocker interference detected!
Wikia is a free-to-use site that makes money from advertising. We have a modified experience for viewers using ad blockers

Wikia is not accessible if you've made further modifications. Remove the custom ad blocker rule(s) and the page will load as expected.