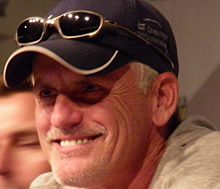 Rob Paulsen (born Robert Frederick Paulsen III, March 11, 1956) is an American voice actor best known for voicing Donatello from Teenage Mutant Ninja Turtles. He also voiced several Disney characters including Gladstone Gander from DuckTales, the Grand Duke from the Cinderella sequels, and P.J. from Goof Troop. For The 7D, he voiced Cobby, Finders Keeper and Nicely Done.
Ad blocker interference detected!
Wikia is a free-to-use site that makes money from advertising. We have a modified experience for viewers using ad blockers

Wikia is not accessible if you've made further modifications. Remove the custom ad blocker rule(s) and the page will load as expected.