"Yeah, that's a flaw."


This article has one or more sections that needs to be added/completed. Adding more information will be greatly appreciated!

"Shapeshifter" is an episode that premiered with "There's a Monkey in My Hat" on Disney XD October 15, 2016.[2] It was previously scheduled for October 8, 2016.
It is the eighty-second segment in the series.
Synopsis
With a villainous shapeshifter on the loose, it's up to Agent Bash to save Jollywood from his evil schemes.[3]
Guest Star
"Weird Al" Yankovic as the Shapeshifter.
Plot
"We're Working on It!"


This section of the article is coming soon or undergoing development. Thank you for your patience!

Featured Songs
Trivia
Cultural References
This episode is a parody of the James Bond franchise.

The climax with Agent Bash and Lotta Glamour faced the laser references the famous scene from Goldfinger.
Shapeshifter's goal was to smuggle sapphires from the 7D's mine, as reference of Goldfinger's Grand Slam plan to smuggle Gold from Fort Knox.
The incounter of Shapeshifter is in a Casino, as a reference to Casino Royale, as Agent Bash Plays a game of Go Fish with the villain.
Doc is the Gadget man called "D" referencing James Bond's gadget man Q.
The chase on skis and getting kidnapped by shapeshifter is from On Her Majesty's Secret Service.
Agent Bash on the snow board is from A View To A Kill.
The Glooms are Odd Jobs with killer bowler hats.
Crocodiles are from Live and Let Die.
The Shapeshifter wears the same uniform as Spectre's leader Number 1 Ernst Stavro Blofeld and the eye patch of Number 2 Emerle Largo.

Sneezy's outfit is based on the outfits worn by Elvis Presley during the latter part of his career. During that time, Elvis performed in Las Vegas, which is a city for casinos and the main setting for Diamonds are Forever.
Goofs
In the establishing shot where Agent Bash talks to Queen Delightful what he knows about the the villains' plans, Doc's hat is a solid color rather than striped.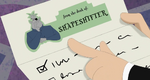 While Agent Bash pulls out the Shapeshifter's list, its masthead appears to be hand drawn, but a close up in the next shot shows that the masthead appears printed with the font created for the show. A light colored background is also used around it.
Characters
International Premieres
March 21, 2017 -- (Disney Channel Asia)
References
Ad blocker interference detected!
Wikia is a free-to-use site that makes money from advertising. We have a modified experience for viewers using ad blockers

Wikia is not accessible if you've made further modifications. Remove the custom ad blocker rule(s) and the page will load as expected.