"Heigh-Ho!"


Good job! This article is complete, meaning that everything's in place.

"Starchy Takes a Break" is an episode that premiered on July 11, 2014 with "Sir Yipsalot and the Goose" on Disney XD.[2]
It is the tenth episode in the series.
Synopsis
After being sidelined by an injury, Lord Starchbottom grows concerned when Queen Delightful appoints Grumpy as his replacement.[3]
Plot
The 7D are busy polishing the castle floor using the Super Slippery Floor Shiner at the castle so that Queen Delightful can skate on it without any skates, and the dwarfs themselves join in the fun. Lord Starchbottom arrives with royal mail for the Queen, but slips on the polished floor and went down several flights of stairs, effectively injuring his left leg. Grumpy suggests that there should be a sign warning about the slippery floor, and the Queen agrees, while feeling disappointed. Then she has an idea: Grumpy would take Starchy's place as Starchy takes a break and recovers from his injury at The 7D's cottage (despite his protests). While Grumpy relaxes and devouring food at the castle, Starchy's experience at The 7D's went south thanks to Doc's special bed for nursing his leg injury that went haywire.
Starchy is increasingly fed up staying at the dwarfs' cottage, so he lied to them about needing Jolly Berry juice. After The 7D go out to get some, Starchy leaves while his right leg is still injured. He returned to the castle to find his belongings from his bedroom are being thrown into a cart headed for the dump by Grumpy and Delightful. Starchy then believed that he's fired and Grumpy is now the Queen's new personal assistant. Upset, he goes to the dump to retrieve his items, but he fell into the dump and he broke his other leg and called for help.
The 7D and Delightful learn that he's missing; and using one of Starchy's stinky socks, Dopey leads the dwarfs to the dump. Starchy laments that the Queen no longer needs him, but Grumpy reassured him that he and Delightful were redecorating his room to surprise him when he comes back. The dwarfs then form a human chain to lift Starchy into the air. His legs snapped back into place upon impact when he landed, and he happily thanked them. Back at the castle, Starchy is delighted that Grumpy and Delightful has done a good job on the redecorating (with his room repainted blue). Everything is back to normal—until Starchy once again slipped on the polished floor, and Happy replies that there should be a sign warning about a sign warning about the slippery floor.
Featured Songs
Trivia
Doc's torso is slightly larger than normal in some shots.
This episode marks the first time Squire Peckington himself doesn't make an appearance as well as not being on Delightful's crown for the entire episode.
This is one of the episodes the Glooms did not appear.
Goofs
The Funnel Tunnels (which are used to transport Starchy from the castle) have six tubes in this episode instead of the usual seven (one for each of the 7D), shown in other episodes where it made its appearance in the Throne Room.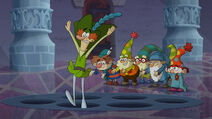 As Dopey floor skates around Queen Delightful, his whistling can be heard; however, his mouth is closed during the entire shot.
Characters
International Premieres
September 28, 2014 -- (Disney Channel Italy)
October 5, 2014 -- (Disney Channel Asia)
December 11, 2014 -- (Disney XD Poland)
References
Ad blocker interference detected!
Wikia is a free-to-use site that makes money from advertising. We have a modified experience for viewers using ad blockers

Wikia is not accessible if you've made further modifications. Remove the custom ad blocker rule(s) and the page will load as expected.