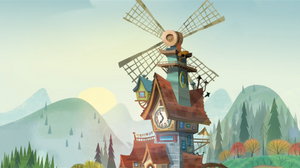 The 7D's cottage is a location from The 7D and is one of the series' main settings. It's the home of the seven dwarfs –- Happy, Doc, Sneezy, Bashful, Dopey, Sleepy, and Grumpy. Underneath their home is their jewel mine. Their home first appeared in "Sneezin' Season".
Appearance
The cottage is located not far from the Jollywood village and Queen Delightful's castle, facing north. It has the appearance of a clock tower, with windmill blades are attached to its chimney and a waterwheel next to a creek; there are also several rooms sticking out of it, each with its own roofs. The most common rooms being shown are the kitchen, dining room, and den. Upstairs is a large bedroom in which all of the 7D sleep, each with their own beds. The cottage is littered with many of Doc's inventions. There are a few trap doors around their house that serve as the entrance to their mine. Because most of the cottage is sized for the dwarfs, visitors of average human size (Lord Starchbottom, Queen Delightful, and even Hildy and Grim [disguised]) sometimes have to watch their heads.
In the show
The 7D's cottage serves as the location for several of their adventures. It is sometimes targeted by the Glooms to gain access to their mine in order to take over Jollywood by stealing some of its gems, along with other misdeeds.
Gallery
"Sneezin' Season"
"Welcome to the Neighborhood"
"Gnome Alone"
"The 8th D"
"Big Bad Sneezy"
Ad blocker interference detected!
Wikia is a free-to-use site that makes money from advertising. We have a modified experience for viewers using ad blockers

Wikia is not accessible if you've made further modifications. Remove the custom ad blocker rule(s) and the page will load as expected.