The 7D is an American animated television series produced by Disney Television Animation for Disney XD. The series is described as a "comedic and contemporary take on the Seven Dwarfs" -- Doc, Grumpy, Happy, Bashful, Sneezy, Dopey, and Sleepy—from the 1937 animated film Snow White and the Seven Dwarfs by Walt Disney Productions. It was also the prequel of the said movie before the introduction of Snow White. Originally envisioned as a Disney Junior series, The 7D has been retooled as a series for all ages and it premiered July 7, 2014 with the episode The Littlest Giants in the United States on Disney XD.[2][3][4] On December 2, 2014, Disney XD renewed The 7D for a second season. Before the official announcement, Billy West, the voice of Bashful, said that the series had received a second season order.[5] The first second season episode, When Pigs Fly, premiered on Disney XD on January 23, 2016 and on Disney Channel on January 29, 2016. On April 25, 2016, Mr. Warburton, the co-executive producer of the series, announced that The 7D has been cancelled and will not continue beyond its second season. The series finale had set to premiere on September 2016;[6] instead it was pushed a month later to October,[7] but the finale was then pushed to November. The series finale premiered on November 5, 2016.[8]
The first nine episodes of the series aired on Disney Channel from September 15 to 21, 2014, though it is not in the order that had first premiered on Disney XD. The series returned to Disney Channel on December 26, 2014, where it airs regularly as a part of the Disney Junior on Disney Channel block on weekends until February 14, 2015, as well as Disney Junior the channel in 2015, where it will make its debut. The 7D premiered on Disney Junior on February 9, 2015 to April 3, 2015. The series returned to Disney Channel weekdays starting on January 25, 2016 with episodes from the first season new to the network as well as the second season premiere episode only for a week.
Premise
Set in the kingdom of
Jollywood
, the 7D work in
their underground jewel mine
. Whenever a problem arise, the dwarfs are being summoned for help through the use of the magical
Bing-Bong Bell
by
Queen Delightful
, the ruler of Jollywood. Standing in their way are
Hildy
and
Grim
Gloom, an evil magical couple who wants to overthrow Delightful's throne and take over Jollywood.
[3]
Production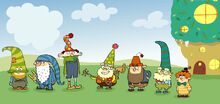 In June 2012, Disney Junior announced that an adaptation of the seven dwarfs from the 1937 film is being made into a series, with an image of the dwarfs' new look designed by Fish Hooks creator Noah Z. Jones.[9] However, in late 2013, a new image revealed that the 7D was redesigned during production.[10] The series was set to be animated using Adobe Flash; the series premire, The Littlest Giants, was made using that program, though it's aired as the sixth episode of the series. However, it was decided later to use traditional animation for the rest of the series.[11] The storyboards and pre-production work is done at Disney Television Animation, while animation production is handled by Toon City in the Philippines and South Korea-based Digital eMation.[11] Starting with the second season, Wang Film Productions in Taiwan took Digital eMation's place.
Music
For a list of songs, see the Songs category.
Parry Gripp serves as the composer of songs for The 7D.[12] as well as composing the series' score along with Keith Horn. The 7D Main Title Theme is the series' theme song. Almost every episode features a song; some have more than one. A handful of The 7D writers have also written lyrics to several songs.
Reception
Ratings
The 7D had held Disney XD's number two animated series debut in its history—with the premiere episode The Long, Long Winter  and Itsy Bitsy Spider Fighters watched by 546,000 viewers—until it was supplanted by the series premiere of Star vs. the Forces of Evil on March 30, 2015, also the network's most watched debut in its history.[13] An audience of 638,000 viewed "Sneezin' Season"/"The Delightful Diamond Mystery" in the following day. During its premiere week of July 7–11, 2014, an average of 591,000 viewers watched The 7D.
Comic-Con appearance
On July 22, 2016, the producers of The 7D along with the producers of Penn Zero: Part-Time Hero made an appearance at Comic-Con in San Diego for a one-hour panel.
Episodes
Characters
Galleries
Crew
Main Cast
Guest Voices
Production
Noah Z. Jones—series developer, character designer
Sherri Stoner—story editor, writer
Charles Visser—director, storyboard artist
Dave Bennett, Tina Kugler, Carson Kugler, Douglas McCarthy, Kirk Hanson, Mark Maxey, Kevin Frank, Michael Deiderich, Kenny Thompkins—storyboard artists
Alfred Gimeno, Jeff Gordon—directors
Tom Reugger—executive producer, writer
John McCann, Randy Rogel, Paul Rugg, Roger Eschbachner, Deanna Oliver, Shea Fontana, Craig Shemin, Charles M. Howell IV, Cooper Sweeney, Lisa Arch, Gene Grillo, Blake Larson—writers
Kelly Ward—voice director
Parry Gripp—music composer
Keith Horn—co-composer
Tom Warburton (also credited as Mr. Warburton) -- co-executive producer, director
Awards and nominations
2015
42nd Daytime Creative Arts Emmy Awards

Outstanding Original Song
Outstanding Original Song—Main Title and Promo

"7D Main Title Theme"[15]—Nominated

2014 Behind the Voice Actors Voice Acting Awards
2016
2015 Behind the Voice Actors Voice Acting Awards

Best Male Vocal Performance in a Television Series in a Guest Role
Best Vocal Ensemble in a Television Series

Nickelodeon Kids' Choice Awards Mexico
2017
44th Creative Daytime Emmys

Outstanding Original Song

2016 Behind the Voice Actors Voice Acting Awards[21]

Best Female Vocal Performance in a Television Series in a Guest Role
International Premieres
July 13, 2014—Disney XD Canada[22]
August 28, 2014—Disney XD France[23]
September 7, 2014—Disney Channel Asia[24]
September 14, 2014—Disney Channel Italy[25]
November 29, 2014—Disney Channel Brazil[26]
December 1, 2014—Disney XD Australia[27]
December 1, 2014—Disney XD Germany[28]
December 6, 2014—OSN (Middle East and North Africa)[29]
December 6, 2014—Disney XD Poland
December 7, 2014—Disney Channel Hungary
December–January 2014/2015 - Disney Channel Israel[30]
February 16, 2015—Disney Channel Bulgaria
See also
References
Ad blocker interference detected!
Wikia is a free-to-use site that makes money from advertising. We have a modified experience for viewers using ad blockers

Wikia is not accessible if you've made further modifications. Remove the custom ad blocker rule(s) and the page will load as expected.