"Yeah, that's a flaw."


This article has one or more sections that needs to be added/completed. Adding more information will be greatly appreciated!

"The Jollywood Games" is an episode of the The 7D that premiered October 8, 2016 with "Planks, But No Planks" on Disney XD.[2] It was previously scheduled for October 1, 2016.
It is the eightieth segment in the series.
Synopsis
Bashful and Grim battle in the Jollywood Games for the coveted grand prize - to have a request granted by Queen Delightful.[3]
Plot
"We're Working on It!"


This section of the article is coming soon or undergoing development. Thank you for your patience!

Running Gags
Every time Flappy mentions anything related to Waffle Chalet, a splash commercial of Waffle Chalet, together with its jingle, appearing seven times, the singer going faster as the commercial would replay; making Lord Starchbottom annoyed time by time.
Trivia
There was a scene where Flappy, as the Waffle Chalet Fairy, appeared in a commercial with Queen Delightful. It was cut from the episode because time restraints. The deleted clip was later released by executive producer Tom Ruegger (right).
Sleepy and Sir Yipsalot both got disqualified for the Jollywood Games because of the former slept in the middle of the race, and the latter ate a barrel full of pickles, which is forbidden.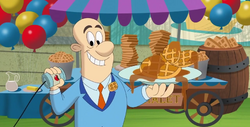 Queen Delightful and Bashful shared their first kiss together at the end of the episode.

This is also the third time the Queen kissed Bashful.

Moral: Be a good sport to other people.
Cultural Reference
The waffle-stuffed waffles introduced by Flappy (right) is a Hidden Mickey.
Goofs
When Grim spotted the Waffle Chalet food cart during the horse race, its name on the cart is backwards.
At one point, Starchbottom has no eyebrows.
Characters
International Premieres
December 16, 2016 -- (Disney Channel Asia)
References