"Heigh-Ho!"


Good job! This article is complete, meaning that everything's in place.

"The Very Important Thingy" is an episode that premiered on January 13, 2015 with "Leaf It To Sneezy" on Disney XD.[2]
It is the thirty-seventh episode in the series.
Synopsis
While building a very important invention for the queen, Doc's concentration is continually broken by his noisy housemates.
Plot
Queen Delightful is seen using the Bing-Bong Bell, and the 7D arrives at her castle. Delightful commissions Doc to construct a Thingy so she can relay announcements loudly to Jollywood's neighboring kingdom. Back at their cottage, the rest of the dwarfs are distracting Doc with their loud activities. Doc, believing that he can't concentrate with all the noise, leaves in search for a quiet place to focus on his idea for the Thingy.
Realizing that they may have made Doc upset, the 6D went to Lord Starchbottom so he can teach them how to be quiet during a long period. Starchy simply told them to stay quiet, but they continue to annoy him by being noisy. Then, Grumpy and Starchy make a bet: If the 6D stays quiet for an hour, Starchy will have to take a bath in a tub filled with prune pudding. Meanwhile, Doc finds few quiet places for him to work on his blueprint, but with each time he gets annoyed by the sounds of nature. Finally, he decides to hop on the Sky Bucket headed for the Tranquil Desert. However, the sounds of his equipment in a barren environment made him uneasy, and he goes back home.
Back at the castle, the 6D have made through an hour by staying quiet and Starchy has to go in the prune pudding-filled tub. Doc arrives at the cottage, and with a lot of noise surrounding him, he unknowingly builds the thingy and successfully tests it. At first, Doc built it to call the other dwarfs home after he realized he had snapped at them earlier and to apologize, as well as his fear of disappointing the Queen when he had trouble coming up with any ideas. Happy reminds him that he finally had it made, and with the thingy now in the hands of the Queen, Delightful gets to send a message loud and clear to the next kingdom over, where its king now has to have a similar device to relay a message in return.
Featured Songs
Running Gags
Trivia
It's that there's another kingdom aside from Jollywood, with a female counterpart of the 7D and a male counterpart of Queen Delightful.
This is the first episode that Grumpy didn't stop Happy singing.
"Yodel Song" is heard for the third time since "Gnome Alone".
The Disney/ABC press site for Disney XD lists the episode as "Very Important Thingy".
Many TV guides list "The Very Important Thingy" as "The Very Important Thing," without the letter Y.
In Southeast Asia, this episode took place along with "Leaf It To Sneezy" before a 3-hour marathon of The 7D, possibly regarding to the 1st anniversary of it's first broadcast in America, that ran from 7PM - 10PM.
Goofs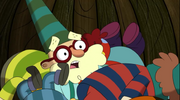 If Grumpy really knows that Doc needs silence, he wouldn't have sung with his fellow friends.
While the rest of the 7D dive into the wooden barrel where Doc is inside during the "Thinking Song" musical number, Sneezy's shorts are colored red instead of blue.
Squire Peckington appears on Queen Delightful's crown as usual, but while she yodels and flips, Squire Peckington is not on the crown.
Right before Starchy lost his cool while attempting to teach the 6D how to be quiet, the color of Dopey's nose is the same as the rest of his face (right).
Characters
International Premieres
July 7, 2015 -- (Disney Channel Asia)[3]
November 27, 2016 -- (TV5 Philippines)
References