"Yeah, that's a flaw."


This article has one or more sections that needs to be added/completed. Adding more information will be greatly appreciated!

"What Are You, Five?" is an episode that premiered on July 9, 2016 with "Hop To It, Dopey!" on Disney XD.[1]
It is the seventy-fourth episode in the series.
Synopsis
Hildy casts a spell that turns the 7D into five-year-olds.[2]
Plot
"We're Working on It!"


This section of the article is coming soon or undergoing development. Thank you for your patience!


Hildy is being featured by Johnny Sage's show "The Wackiest Witches and Warlocks", but she was seen crying of embarrasment because she was once again defeated by the 7D by squashing her, featured on television. She then casts a spell to minus two of the 7D to make them five. However, she turned the 7D into five-year-olds! She was so happy she kicks Queen Delightful out of the castle. She then wants to ring the Bing-Bong Bell to call the 7D, but it was hard to reach since it is inside the castle. Sir Yipsalot digs to the castle and rings the Bing-Bong Bell. The little 7D head out to her "house", but got distracted by Grim's trick by distracting them with cute puppies.
Featured Songs
Running Gags
Doc saying "evidently".
Queen Delightful ringing the Bing Bong Bell, with the 7D being alerted to it. But every time, they'll get distracted by Grim's tricks.
Trivia
The title "What Are You, Five?" is one of Grumpy's catchphrases.
It is revealed that Bashful is the only one who had trouble pronouncing words that contain the letters "L" and "R" when he was younger. For example, whenever The Bing Bong Bell rings, he says "Pweety Wady!" instead of "Pretty Lady!" But he can pronounce words correctly when he got older or when the 7D turns back into their normal age.
Johnny Sage from the Season 1 episode "Sleepytime" reappears; in this episode he has a larger role as the host of a show similar to America's Funniest Home Videos.
This is the only episode in the series to be storyboarded by three artists (Jordan Koch, Marcelo DeSouza, Kexx Singleton).
This is the second time Sneezy, Doc, Happy, and Dopey are seen as children.

Ironically, this is the third time Grumpy seen as a child.

This is the first time Sleepy and Bashful are seen as children.
Continuity Error: Queen Delightful said that she can't ring the Bing Bong Bell outside the castle despite in "Grim the Genius" it was shown that the rope appears in the Enchanted Forest after being kicked out of the castle.
Moral: Let the children have fun just the way they are.
Goofs
When little Sneezy (with the 7D) is running towards the puppies from the cottage, he went from wearing his usual brown shoes to wearing no shoes at all; in this shot, his feet are covered by his blue pants!
At one point during the conversation between the five-year-old 7D, Delightful and Starchy, the patch on Bashful's hat is green instead of orange. This error was first occured in "Jollyball Anyone?", when Bashful's orange patch was changed to pink.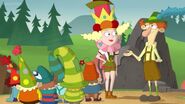 Characters
International Premieres
November 12, 2016 -- (Disney Channel Asia)
References
Ad blocker interference detected!
Wikia is a free-to-use site that makes money from advertising. We have a modified experience for viewers using ad blockers

Wikia is not accessible if you've made further modifications. Remove the custom ad blocker rule(s) and the page will load as expected.