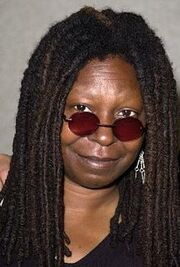 Caryn Elaine Johnson (born November 13, 1955; although commonly known as Whoopi Goldberg) is an American actress, comedian, and talk show host. She voices the Magic Mirror in The 7D. She has been on the game show Hollywood Squared and stared in the Sister Act movies.
Ad blocker interference detected!
Wikia is a free-to-use site that makes money from advertising. We have a modified experience for viewers using ad blockers

Wikia is not accessible if you've made further modifications. Remove the custom ad blocker rule(s) and the page will load as expected.